Ask about our Price Matching policy Financing Available!
Seamless Flooring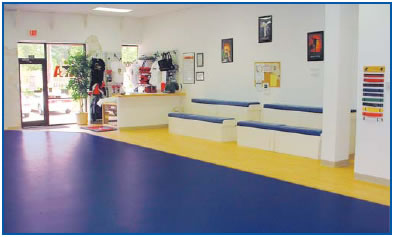 Seamless flooring provides a smooth, unbroken work out surface -- Ideal for Martial Arts, Aerobics, etc. Our custom permanent martial arts floors are a wise investment. Lightweight 1 1/4" Trocellen Foam combines superior energy absorption, resilient cushioning and great footing. It also stubbornly resists degradation and breakdown. (2" Trocellen is available at an additional charge.) Tough, but not abrasive, our vinyl cover material cleans easily, won't stain or absorb moisture (unlike canvas) and stands up to years of heavy use. Covers and foam can be ordered separately. In simple terms, you put down a frame around the area you wish to cover (secured to the floor). Then roll out the Trocellen Foam and cover it with the rugged 18 oz. vinyl pulled taunt and secured on each side. Detailed instructions are provided (see below). Looks fantastic. Though this type of flooring is called "seamless" there are seams (or welds) - though nearly invisible. These welds are very strong -- stronger than the vinyl itself.

Seamless flooring and mats are available in your choice of yellow, orange, red, light blue, royal blue, tan (or beige), green, purple, gray and black. Contact us with exact dimensions of the area you wish to mat. Our vinyl is made in the USA.

Seamless Flooring can be configured to provide complete coverage for virtually any location. In most instances, installation requires only basic skills, no special tools and can be accomplished by end-users. Detailed instructions are provided and supplemented by an additional sheets of tips and suggestions. Cover and/or foam may also be purchased separately.


Request a Price -- give us the details of your application and we will supply a price.
Roughly, if over 500 sq ft -- $4.60 per square foot + Freight for 1 1/4" foam, (or $5.75 for 2" foam) when you install (+ shipping).
Flooring can be tailored to accommodate structural uprights and posts.
| | |
| --- | --- |
| See installation instructions/tips | This product is easily cleaned with general all-purpose cleaners (such as Spic-n-Span) - just wet mop on and off. Hard shoes and sharp objects should be prohibited. |

Your Cart

Shopping cart
Your Account

Login Status
Not logged in