Ask about our Price Matching policy Financing Available!
Flexi-Rolls®

Easy, Durable Roll Flooring
Since their introduction, Flexi-Rolls® by Dollamur have become the favorite of the cheer and gymnastics worlds. These rolls take less effort than Carpet Bonded Foam to roll out and back up. Because of this, they are quite popular for use by schools, YMCAs, and other multi-purpose facilities. The mats are manufactured using the latest in athletic foam technology. The closed-cell, cross-linked foam provides maximum shock absorption and maintain performance throughout their life. Flexi-Rolls® come in the same widths and thicknesses as the Carpet Bonded Foam (6' wide, 1 3/8" or 2" thick).
Standard (42') rolls ship in 2 to 4 weeks of your order.
They are very easy to move, setup and take up. One person can easily do the job - no flipping of the roll is necessary.
The carpeted side is protected on the inside of roll when stored.
Rolled Mats wont unroll when set on their edge.
Quick and Easy storage.
One person can set up or break down a 42' X 42' Flexi-Roll® floor in just minutes. Carpet Bonded Foam and Flexi-Rolls® are the exact same product, with one difference. Flexi-Rolls® have a slit in the foam portion of the rolls every 4" which allows a preschooler to unroll a section! You'll get the same great performance of our regular rollable mats chosen for years by top gymnastics and cheerleading programs. The same high performance sports foam, the same durable carpet, and the same state-of-the-art bonding method.
The best just got better - Now available eight color options! (Flexi-Roll® is a registered trademark of Dollamur, LP.)
| | |
| --- | --- |
| See top-side view of colors below. | |
Available Colors in Flexi-Rolls:



Blue




Red




Purple




Green






Teal




Black




Charcoal




Light Gray
The 1 3/8" thick roll forms into a nice round (~36" diameter) roll. The 2" makes more of an oval (~40" diameter) roll. These rolls also tend to lay flatter more consistently at the ends than the Carpet Bonded Foam. Prices shown do not include freight. Flexi-Rolls® are currently shipping in 2 - 4 weeks (if purchase in the normal 42' long rolls). Three-year warranty covers carpet/foam bonding and carpet wear when used as intended for cheerleading, gymnastics, martial arts, and aerobic activities.



This pricing above reflects the price for all 8 available colors.
Rolls (in standard 42' lengths) are normally shipped in 2 - 4 weeks currently.
Note: Flexi-Rolls are not available in the 3/4" thickness.
This thickness is only available in Carpet Bonded Foam.


Request a Quote
(for any quantity)

---
About roll length -- Flexi-Rolls (and Carpet Bonded Foam) regardless of the manufacturer, will not arrive in an exact 42' length. This is impossible for the manufacturer to accomplish because of the nature of the product. They will be something more than 42' -- usually 2" to 5" over. The rolls should be laid out flat and allowed to acclimate for 24 to 48 hours before assessing whether they need to be cut or not. They may be hot or cold after shipping and therefore longer or shorter than they will ultimately be in your facility -- even altitude has an effect. Cutting is not difficult, but as the saying goes 'measure twice, cut once'.
Flexi-Rolls®
or Carpet Bonded Foam
This photo is the 2"
which is made up of 1 7/8"
of foam, 1/8" of Carpet




In Cheer, some states or associations compete on 7 rolls (for a 42' x 42' floor),
more often 9 rolls (for a 42' x 54' floor) are used.
Carpeted Foam Benefits
Benefits of heat bonding over loose carpet and foam are considerable. Carpet wrinkling, twisting and shifting are eliminated while durability is greatly increased. Wear and tear on foam is greatly reduced. Bonding makes foam stronger; it dissipates landing impact and produces a much faster responding floor. Carpet Bonded Foam or Flexi-Rolls are far less expensive than a separate foam and Floor Exercise Carpet.

The Carpet
Strong Needle-Punch Carpet - This is the strongest carpet used anywhere in the industry, yet it is soft, with the touch of velour. The polyolefin fibers are not stringy and cannot be pulled out by velcro, a problem common to less expensive and lighter weight carpets. Similar products may look similar, but lighter weight 10–14 oz. carpets simply do not provide the quality, durability and performance of our tough 26 oz carpet. The carpet makes the floor.

Gluing carpet to foam is not a satisfactory method of bonding. During manufacture of our CBF and Flexi, the foam liquefies; then in the cooling process, the carpet and foam substrates actually become one piece, creating a permanent, virtually indestructable bond.
The Foam
Our CBF and Flexi are made of trocellen foam. This is widely recognized as the recommended foam for sports performance. It was introduced in 1972 and is renowned for its shock absorption, resiliency and fast response. It has proven to substantially outlast non cross-linked foam because its cell structure will not break down under repeated bending or compression. Other polyethylene foams may look or feel like ours, but they are unable to provide the same shock absorption and resiliency. This foam will not support growth of fungi or mold and does not emit dust or fibre products.

Ease of Use
These mats are lightweight, easy to transport and easy to roll into position. Individual rolls may be easily and safely carried by just two people, and a full floor can be moved and set up in a matter of minutes. To put down, you simply unroll the unit. The velcro that keeps it together in a roll is used to join the segments. Velcro grips the carpet surface itself. To take up, just remove the velcro, and roll it with the carpet to the inside. Rolled mats won't unroll when set on edge. Roll on the velcro strip to secure the foam until next time. See
Flexi-Roll Care Information
.
> These are also available in sizes more suitable for home use. See them here.
> Need to replace your 4" Velcro? They are here.
Flexi-Connect
There is another option to consider with Flexi-Rolls ... Flexi-Connect. This option has the connecting Hook/Loop built in to the rolls!

With today's shared space, quick setup and tear-down is a must. Create a protective floor for cheerleading and stunts in minutes without the need for hook tape to connect with FLEXI-Connect bonded carpet mats.

Mats often need to move as quickly as your team or maybe you prefer the seamless look for your training. Dollamur FLEXI-Connect Bond Carpet mats eliminate the need for hook tape to connect because it is built-in to each roll. No gaps to catch a shoe.

FLEXI-Connect® mats have the easiest and most reliable built-in mat connection system on the market. Strong hook & loop holds mats in place and provides a smooth, all carpet surface that is virtually seamless.

Reduce your setup and tear down time to minutes with lightweight, FLEXI-Connect® Cheer & Stunt mats. No additional tools are required to setup the mats and you will eliminate unsafe gaps without tape.

Flexi Connect does cost more (around $250 more per 42' roll).
Note: Flexi-Connect is not recommended for use with Spring Floors. Tears can develop in the Flexi cuts. Warranty will be voided if done so.
---
How these rolls arrive

These rolls must ship via motor freight. In the picture at the right, you will see how the rolls will arrive at your facility. (This one is 1 3/8" thick.) One person can easily move these, regardless of thickness, with a two-wheel dolly. Note: The velcro roll is normally attached to the top of the rolls or comes in a separate container.

The rolls are protected by additional foam around the roll inside a heavy plastic bag. Although protected very well, freight damage can and may still occur. Be sure you look the rolls over on receipt (before signing the driver's receiver) and note any damage or suspected damage.

> Need Storage Straps? They are here.
EVA Enhanced Flexi-Rolls
There is another category of Carpeted Foam: the EVA Enhanced (of both CBF and Flexi). While most gyms in the U.S. use the standard trocellen foam (as priced above), there is a step up. High Performance Tri–Flex® by Dollamur goes further. By combining our exclusive cross-linked polyethylene formula with EVA foam, the EVA Enhanced is the fastest, liveliest and most dynamic rollable floor in the world. It provides superior shock absorption and long-lasting foam life. Available in the same 8 color choices above, EVA To see the Carpet Bonded Foam Equivalent, go here.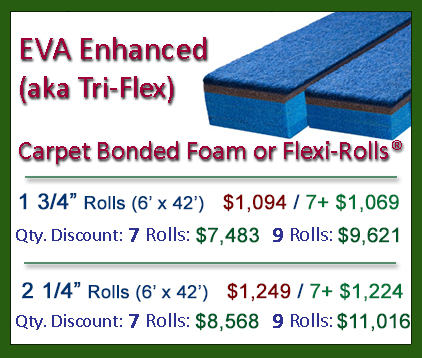 This pricing above reflects the price with no shipping included. Pricing for all colors of rolls is the same. EVA rolls (in 42' lengths)
are normally shipped in 2 - 4 weeks of your order currently.

---
With your city, zip code, the quantity, and which product(s) you think would work the best for you, we can give you definite delivered pricing.

---

---

Related pages:
to Tumble Strips

Your Cart

Shopping cart
Your Account

Login Status
Not logged in