Ask about our Price Matching policy Financing Available!
Though the possibilities are endless, here are some common layouts: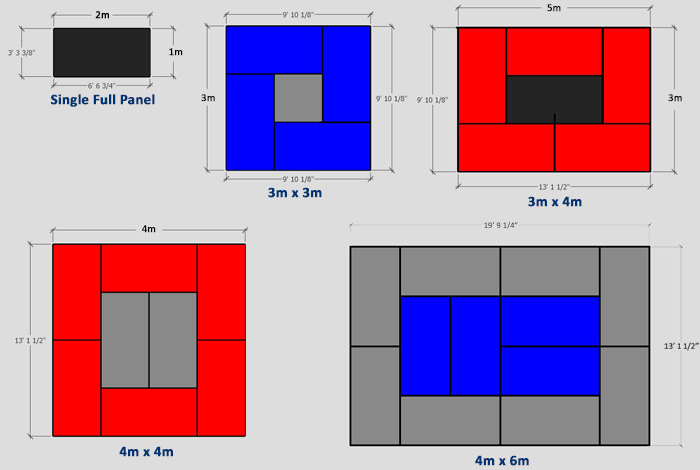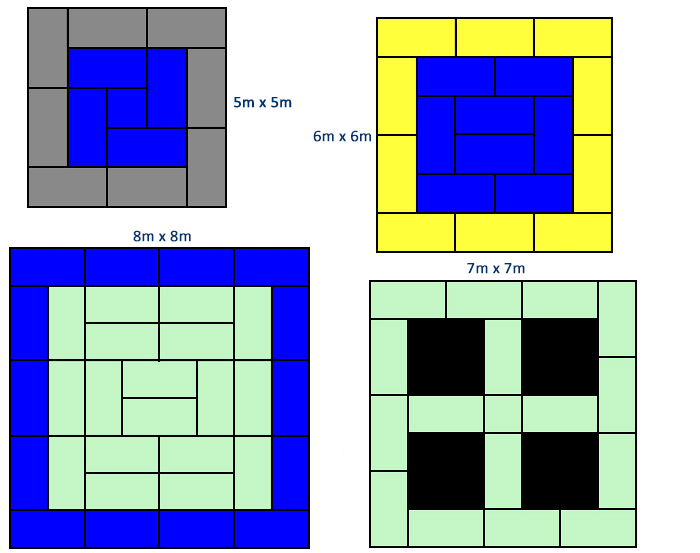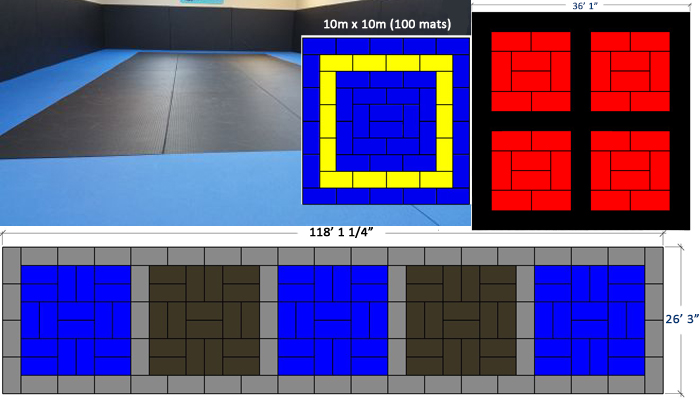 FYI
Judo:
The competition area must be padded with Tatami. The minimum allowable size is 14 x 14 meters. The match takes place in an 8 x 8 meter to 10 x 10 meter zone within this larger area. The surrounding space acts as a safety zone. When two competition areas are side by side, there must be at least a 3-meter safety zone between them.
Official IJF (International Judo Federation) contests such as the Olympics and world championships, etc., are conducted in an 8m x 8m contest area. Where an adjacent contest area exists, there must be a space of 3 to 4 meter safety zone between the two contest areas.
In AAU it is recommended that the mat area be 20' x 20' minimum with a suggested safety area of 8'.
Recommended thickness is 1.5" for Judo.
Taekwondo:
Square Shape
This competition area includes the contest area and safety area. The contest area is a 8m x 8m square and a safety area of 2m to 4m. The total size of the competition area which includes the contest area and safety area is 10m x 10m to a maximum of 12m x 12m.
Octagonal Shape
The competition area is a minimum of 10m x 10m to a maximum of 12m x 12m. At the center of the competition area is an octagonal shaped contest area. The contest area measures 8m in diameter and each side of the octagon is 3.3m long. Between the outer line of the competition area and boundary line of the contest area is the safety area.
Recommended thickness is 1" for Taekwondo.
>> We recommend checking with the governing body that you will be competing within, to determine if they vary from these dimensions.
Return to Fuji Tatami Mats
Your Cart

Shopping cart
Your Account

Login Status
Not logged in