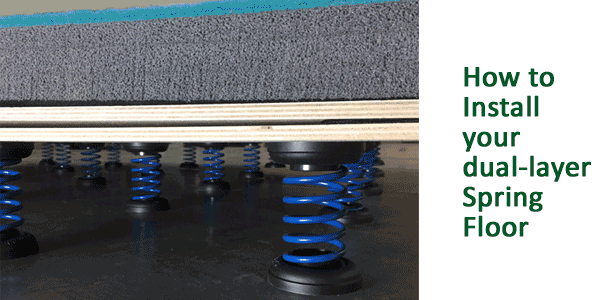 The above portrays the assembly process for a 10' x 10' floor, but the process it the same for all sizes. You would just have more panels. Start in one corner and work toward the opposite corner.
Panels arrive with the springs already mounted and velcro applied.
The floor comes ready to lay directly into place.
No tools are necessary - well, maybe some snips to cut the bands on the skid.
We use 4" Velcro (not 2") for optimumal attachment.
All boards come cut to size, velcroed and well marked for assembly ease.
Your floor is down and ready to perform in just minutes.
We can provide any size or shape of floor.
Skirting -- Another popular option is to use a floor skirting that velcros to the carpet bonded foam (9" wide vinyl). Great for all sizes of spring floors and tumble strips. You can purchase this in custom lengths at $2.30 per linear foot plus shipping. The standard sizes are priced below (These prices below include regular UPS shipping inside the continental US - lower 48 states.)
Skirting for the perimeter of your

Spring Floor

:
6' x 42' -- $245
12' x 42' -- $275
18' x 42' -- $308
24' x 42' -- $337
30' x 42' -- $366
36' x 42' -- $395
42' x 42' -- $425
42' x 54' -- $480
You can purchase Vinyl Floor Skirting - here.
> See other Border Options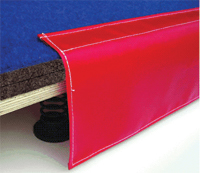 Available in Royal Blue, Maroon,
Black, Red, Green, White, Orange,
Teal, Yellow, Purple and Gray.